SMALL LAYOUTS & SHUNTING LAYOUTS
"...I would like to build a layout - but I just don't have any room for it..." - Small layouts are big fun - Operation: the key to sustaining interest in a small layout - Operational concept: what a small layout is all about
Operational concept: what a small shunting layout is all about - Traffic flow: what goes where and why - Basic switch list Specified car switch list (Card and waybill system) - Scenario lists - From a shunting layout to a shunting puzzle
SMALL LAYOUTS
"...I would like to build a layout - but I just don't have any room for it..."
Chances are: this statement will sound familiar to you, no matter whether you're a seasoned railway modeller or a newcomer to the hobby. In fact, it's probably a key theme of railway modelling - even just browsing the internet or trough books and magazines on railway modelling will quickly reveal that this is one of the topics which keeps coming up again and again, often under such headings as "finding room for your layout" or "small layouts which fit anywhere".

There's few railway modellers who don't marvel at those grandiose layouts which take up the better part of (or have indeed taken over completely) a spare room or a spacious basement. However, it is a simple fact of life that few of us could replicate such huge model railway empires. The immediate conclusion that we could never ever find the space for anything like these layouts graciously saves us from having to consider whether we would also have the spare time, financial means and artistic creativity to build a large model railway layout - and actually get beyond the barest stage of initial construction.

Basically, this leaves you with two possibilities: either you forget about railway modelling because you find you can't model London's Victoria station or the Pennsy's Horseshoe Curve in full and won't put up with anything less, or you reconsider your initial plans and start thinking more in terms of what type of layout will fit the space you have available.

One point often considered if space is restricted is to opt for a smaller modelling scale, such as N or Z, but sometimes, even this doesn't really help - the layout will just simply have to be really small. But as in so many cases, necessity for some turns out to be a virtue.
Small layouts are big fun
British and European modellers have seemingly always been plagued more by a lack of space than their American colleagues, who - if the cliché is to be trusted - all have entire basements at their disposal. Naturally, that simply is not true, as space quickly becomes a premium in any urban area (witness the Japanese modellers' strong traditional leaning towards N scale).

However, differences remain, even though the concept and definition of what makes a layout "small" has seen substantial changes over the past twenty years.
Back in 1992 the December issue of Model Railroader featured a project layout built to the "classic US" 4'x8' (120cm x 240cm) oval continuous-run formula and labelled it "a small layout anyone can build".

In Britain and Europe, however, such a layout will normally be considered fairly sizeable, and the term "small layout" used in ye olde world will more likely be meant to describe a "shelf layout" with a width of 1'-2' (30cm-60cm), ruling out continuous running and thus producing the classic British railway modelling concept of the "fiddleyard", i.e. an "off-stage" area where trains can be handled, turned by hand, etc. - and this type of layout has also become apparent (and accepted as a viable layout formula) more and more in North American modelling, as the cover of the September 2004 issue of Model Railroader indicates.
With generally far less spare space available in their living quarters, British railway modellers developed small and minimum size layout concepts very early on, and the resulting "shelf layout" formula became accepted mainstream practice for those who wanted a layout but lacked the space and/or the inclination to build a fully blown mainline setup. As a result, small layouts featuring backwater branchlines almost became a cliché of British railway modelling.
| | | |
| --- | --- | --- |
| | | A very compact (4'-6" x 13" / 135 x 32,5cm) example of this type of British shelf layout is Dennis Beale's "Raikes Street" (an article on this layout appeared in the January 1995 issue of Railway Modeller), though not set in a rural landscape as it features a moveable piece of track concealed within a factory building. |
Even smaller - in fact just one little step up from a static diorama - is Tony Wood's Barber's Bridge (which was featured in the January 2000 issue of Rail Express Magazine).
An absolute minimum-space layout, the scenic section of this diesel fuelling point measures only 22" x 8" (55 x 20 cm), with an additional 14" (35 cm) of hidden track allowing for movement of the locos onto the three short sidings. The layout was built within a few weeks and at a cost of just £20 at the time.

Over the years, various concepts have been evolved around what came to be called "minimum space layouts" in British modelling terminology in the 1980s. Most of these center on how to run trains on a small layout in order to sustain interest in it, but some have taken up the question of how small a layout can get and still be workable, leading to a whole range of "micro layouts" which really are as small as you can probably get. This modelling concept found its master in the late Carl Arendt, whose excellent website on micro layouts is still being run and updated to this day.
The micro and the minimal space layouts really form a special category of small layouts (which often also allow the use of larger modelling scales in spite of the small overall layout footprint, such as e.g. Jim Read's O Gauge 7mm micro layouts), but Carl Arendt's early internet presence along with his books no doubt helped to make the concept more popular with North American modellers.
Just to which extent can be seen from the fact that Model Railroader issued a special edition on how to build and run small layouts in January 2015. The layouts portrayed include a wide variety of structural concepts (including a modular approach) but they also illustrate that the understanding of what can still be called small is open to interpretation as room sized pikes find their place as well (where possibly the characterization narrow would be more appropriate as they tend to run along several walls of a room).

Also included is a portrayal of John Allen, who way back in the 1950s already felt that modellers should "start small and build well. Plan your small railroad for operation rather than as a race track, and build it with care. You will be amazed at how much fun a small pike can be."

How much the "small layout" has shrunk over time can be glanced from the fact that his original Gorre & Daphetid RR had a footprint of 3'-7" x 6'-8". Newer layouts depicted in How to Build Small Model Railroads, however, show a clear tendency of leaning more and more to the (smaller) British / European shelf layout concept.
Operation: the key to sustaining interest in a small layout
On a big layout, you can just sit back somewhere and watch the trains fly by - and because there's 50+ of them, most people will be kept happy for as long as a session of running trains will take. But what is going to sustain interest on a small layout, where train movement, quite obviously, is restricted? In other words: what happens after 5 minutes, when the locomotive has traversed the length of the layout ten times?

Apart from playing with trains (which in fact is what we're all doing but we'd never admit it in public, and the verb "play" is therefore an absolute no-no amongst modellers), there's the possibility of either running trains or operating them.

"Running trains" obviously is a broad concept. All it really indicates is that model trains must be moving some way or another. At one end of the spectrum, they might just be orbiting on an oval of track at top speed, and the train might consist of an American diesel locomotive, a couple of Australian passenger coaches, one Swiss restaurant car (complete with pantograph for overhead electrification), and last but not least a British guard's van. However, in railway modelling lingo "running trains" usually indicates something at the other end of the concept, namely aiming at creating a coherent picture of both the trains and the environment they run through. This would mean that American locomotives of a certain period pull American rolling stock of (more or less) the same period while running through an American landscape of (more or less) the period in question. The amount of compromise allowed may vary, but in general "running trains" means that a layout will reflect some amount of coherence and accuracy.

"Operating trains" goes one step further, although it doesn't necessarily imply a higher degree of prototypical accuracy in terms of rolling stock and all that goes with it. The word "operating" is used, above all, to indicate that models are run to reflect one very important and central aspect of any real railway: there's a purpose to it.
In other words: rolling stock is principally moved to transport freight and passengers.

On the real railways, trains hardly ever move "just like that", there's a purpose to the traffic. Maybe it's to earn revenue by transporting passengers - such as the EMU shown here, speeding up to London and away from the camera - or maybe it's to maintain the infrastructure, which is the basis of being able to run such revenue earning trains - such as the ballast train double-headed by two class 33 diesels heading someplace south on the rail network.

With only very few exceptions, "operating" trains is a must in order to sustain interest in a small layout. Perhaps the equation is a simple one: the lack of space needs to be compensated by more interest generated by the moves which take place on the layout. A small layout therefore needs to come closer to what railway modelling actually means: building and running a model of a real railway.
Operational concept: what a small layout is all about
Copying the real rail transportation system's way of functioning requires a concept. This doesn't mean that things have to be complex or complicated - in fact, a simple concept usually works best. A good basic way of starting is to establish where the model railway system is located, the era, and how it is connected to the rest of the world, because these few points determine the traffic patterns of a layout and thus provide a reason for its existence, because on the real thing, traffic pattern means customers and revenues, and without those, railways usually grind to a halt and disappear very quickly.

There are a number of operational concepts which can be applied to a small layout.
| | | |
| --- | --- | --- |
| | | You could have mainly passenger services, or passenger services with an equal share of freight, or freight only, or even a specialised setting with specialised traffic, such as a motive power depot or a civil engineer's yard. One possible example to illustrate this point comes from the preserved Kent & East Sussex Railway, where an English Electric Class 08 0-6-0 diesel shunter is ready in April 2001 to shunt stock at the railway's main station site at Tenterden. |
All of these options are feasible, but in practice layouts which have a strong emphasis on what can be seen as "localized operation" (i.e. so-called "shunting" or "switching" layouts) feature a predominance of freight operations or are even freight-only.
These are the best choices if the layout needs to be small - simply because they provide a "realistic feel" and even prototypical operation within baseboard measurements which are open to (almost) everybody.

The reasons for this are quite simple: shunters are usually relatively short engines, and freight stock is usually a lot shorter than passenger coaches.

The example shown here is a Class 09 diesel locomotive at Stewarts Lane Depot, London, shunting two TTA tank wagons on a siding. Within the space of only a few yards details abound with loads of inspiration for a shunting layout.
SHUNTING LAYOUTS
Every country has its own approach and philosophy regarding railway modelling, which often reflects the basic characteristics of its own prototype railway system.
It is therefore hardly surprising that mainstream US railroad modelling focusses primarily on freight, and switching layouts have been a popular facet of North American prototype modelling for a long time and feature frequently in magazines - such as the Boston Union Freight Railroad, taking center stage on the cover of the September 2000 issue of Model Railroader.

Contrary to this, a British outline model railway layout completely devoid of any form of facilities catering for passengers has for the longest time been unusual to say the least.

Nonetheless, the earliest published example of a freight-only concept for a layout seemingly comes from the UK: In the June 1926 issue of Model Railway News, A.R. Walkley, a member of the Wimbledon Model Railway Club (the second oldest in Britain), published an article on his "Railway in a suitcase", which was pioneering in terms of being H0 scale two-rail.
The layout also featured a system of automatic coupling (really an essential feature for a shunting layout) which later on was marketed by Tri-ang, became known as the "tension lock coupler" and is still used as standard coupler on many UK ready to run models today. In terms of British railway modelling history, Wakeley's layout can be regarded as the ancestor of all UK shunting layouts, as it concentrated entirely on freight (thanks to Morgan Lee, longtime librarian of Wimbledon MRC, for much of this information).
| | | |
| --- | --- | --- |
| On a historical note, Walkley - together with two fellow modellers from the then newly-formed Wimbledon MRC (A. Stewart-Reidpath and Michael Longridge) - began experimenting with models roughly half the size of the established 0 gauge sometime in 1923. | | |
In the end, the three modellers found 3.5mm scale to be the ideal modelling ratio - and H0 scale was born.

Trackplan used with kind permission of Dave Howell, originally featured in Model Trains International issue #3

Another typical example of the "1' x 4' shunting layout" type is Dave Howell's "63rd Street Yard" - an urban yard with a couple of freight facilities and a low-relief backscene for added atmosphere.

An American layout as the name implies, switching moves are taken care of by a GE 44 tonner and an S2, with 40' boxcars the staple freight stock. The 3-way point is both a space saver and an added bonus in creating the feel of a small and tight but sprawling urban yard.
However, shunting layouts need not necessarily be small - they can be enormous too, if they incorporate large classificiation yards, for example. But even when you go for a small, shelf-type shunting layout, it's not necessarily the lack of space which provides the motivation for this. A number of people opt for this kind of layout because it provides interesting operational possibilities - although, traditionally, far fewer in the UK and Europe than in the US.
In his booklet 60 Plans for Small Locations (first published in the late 1950s, revised in 1989) the late C. J. Freezer - one of the grand old men of British railway modelling and layout design - mentions the shunting layout under the title of "special purpose" and points out that:

"It is not obligatory to incorporate passenger facilities into a layout, and indeed there can be very real benefits when a small layout is designed around a specialised service."

However, only 3 or 4 of the 60 layout plans reflect this statement, and to this day, the vast majority of British modellers seem to suffer from horror vacui in the absence of passenger facilities on a model railway layout.



Class 08 diesel shunting vans on the freight-only British prototype layout Little Bazeley
During the early days of the internet, web pages featuring shunting layouts were still a rare feature. One important example serving as a source of inspiration for many was Scot Osterweil's NYC Highland Terminal switching layout. The original site (launched in 1994, last updated in 2001) no longer exists, but thanks to the internet archive at least parts are still accessible today, illustrating not only the history of switching layouts but also, in a way, of the internet itself (Scot presents an update in the 2015 How to Build Small Model Railroads mentioned above).

Naturally, things have changed radically. Searching in Google for "switching layout" yields approximately 39,100 hits (September 2013). The string "shunting layouts" is less frequent, but around 4,440 webpages will still keep you busy perusing their content. Plus, layouts depicting shunting yards or switching areas are popular topics in many online discussion groups.
Operational concept: what a small
shunting
layout is all about
However, as with any small layout, a small shunting layout requires an operational concept to sustain interest in running locomotives and freight stock on it. A good basic way of starting to build up a concept is to establish the geographical setting and the era of the shunting layout as well as how it is connected to the rest of the world. These few points determine the traffic patterns of a layout and thus provide a reason for its existence in the form of its traffic patterns, customers and revenues.
On a small shunting layout, there's usually only a handful of customers receiving and generating freight.

If you take the "Timesaver" layout as an example, things might look something like this.
The four customers here are represented by the first four letters of the alphabet, but you could just as easily use the four suits of a deck of cards, so that A = Hearts, B = Spades, C = Diamonds, D = Clubs. In fact, this is a variant of operating shunting layouts such as the "Timesaver". A deck of cards is shuffled and a card drawn for each freight car on the incoming track (e.g. the lower right hand track in the diagram above). Thus car 1 may draw a card of spades and be required to be moved to industry B (= spades), car 2 hearts (industry A = hearts), etc.
The problem with the traffic flow generated by this system is that it doesn't take into account the differences between customers A - D, because rolling stock is moved to locations regardless of its type and thus the goods it may transport. However, if customer A is a printer (who would above all want to receive paper and ship printed products), he will quickly turn his back on the railway if it keeps sending tank cars and coal hoppers to his loading dock.

A good concept therefore indicates the specific types of freight received and shipped by each industry on the layout so that only appropriate rolling stock may be delivered to any given industry. In fact, even one single customer may have different transportation requirements at different locations.
In this following example, still based on the "Timesaver" layout, the entire layout serves just one customer, a paper manufacturing plant.
| | | |
| --- | --- | --- |
| Building "B" is the loading dock for the finished product, i.e. it ships paper. Building "D" along with the adjacent tanks is the storage area for both liquid and solid chemicals used, while "C" is the unloading dock for collected paper to be recycled and "A" the unloading dock for cellulose. | | |
While this is obviously a simplified layman's idea of how a paper manufacturing plant might work, it provides the shunting layout with a clear concept of what is and what may be moved where and why. On the basis of this traffic flow concept, a detailed list can now be drawn up, indicating which type of rolling stock may be used where. For example, tank cars will only be dropped off at "D", whereas covered freight cars may go anywhere (possibly arriving full, dropped of at "C" first and then, once unloaded, moved to "B" for loading). Special consignments (delivery of heavy machinery or spares) may allow for special freight stock.

Here are four views taken in April 2002 depicting the internal rail service at the cardboard factory in Deisswil (Switzerland), illustrating typical aspects of this type of traffic (since shut down along with the factory).

[click for larger images]

Motive power is provided by a small company-owned shunter (which was acquired new in this specific case, but which could well be a second-hand shunter bought from a larger private or state-owned rail company). The track is both covered (in places where road traffic needs to have access) and ballasted, with fencing present prominently - after all this is private property.

The factory buildings represent a mix of older and more modern structures, and different types of freight rolling stock to meet the requirements of the rail customer - in this case tank cars (for liquid chemicals), covered freight cars (for solid material which needs some protection) and open freight cars, covered with tarpaulins in some cases, for material which will not suffer from exposure.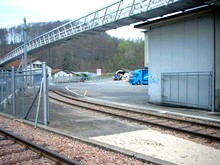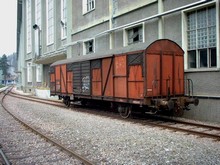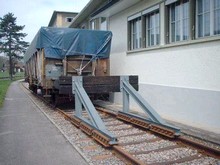 The advantage of an operational concept governing traffic flow is added realism and an extra challenge when switching. The setback is just as evident: the example above is definitely not suited for a layout which boasts a collection of 20+ coal hoppers - unless the plant actually runs on coal.
Traffic flow: what goes where and why
Once an operational concept for a switching layout is drawn up and established, the only thing needed to finally do some interesting and challenging switching is to generate the traffic flow. Over the years, a number of systems doing precisely this (generally referred to as "car forwarding systems") have been established. To the best of my knowledge, they have all originated with American prototype modellers, and adaptations for other prototype modelling have been rather scarce - which is a shame, because all of these systems work equally well for any kind of standard railway system.
Basic switch list
This is probably the most basic system of all (described in the May 1984 issue of Model Railroader) and really is just one small step up from the operational concept of a layout which already determines specific spotting locations for designated car types. The basic switch list simply provides the specific number of cars by type to be dropped off and picked up.

Even if the system is enhanced by adding reporting marks (i.e. identifying specific cars) and special handling instructions, it won't be able to sustain operational interest over a longer period of time on a small layout unless this features spotting locations which require all sorts of types of rolling stock (which doesn't sound very realistic).
Specified car switch list (
Card and Waybill System
)
The specified car switch list generates instructions for freight cars on a layout, taking into account their type and potential delivery locations. The basic concept of most car card systems goes back to a system developed by Doug Smith and described in the December 1961 issue of Model Railroader.

The most popular specified car switch list system is the Card and Waybill system as improved upon by Don McFall. It works on the following basic principles:
Every freight car used on the layout has its own specific card providing information such as railroad name, number, and AAR car type
Every car card (standard format 2"x4") has a transparent pocket for a two-sided waybill (the system is therefore often referred to as "card and waybill system"). With no waybill, a "return to ... when empty" destination appears through the clear pocket. A waybill is added to the car card (additional cards may be added to the pocket with special handling instructions) which is turned when the car is delivered to its destination, preparing it for its next move.
Every waybill (standard format 2"x3") as four car movements or cycles. Waybills have a box for the AAR car type. Each of the four movements has a "To:", "From:", and "Contents" area. The "To:" and "From:" portions each list the destination (town) and receiver (industry). The size of the waybill and pocket is designed so that only one movement shows at a time.
The small switching layout has a waybill box (usually placed on the front of the layout's fascia) with a compartment labelled for each track/industry. When a car is setout on a track, the corresponding car card is placed in the compartment for that track
Step 1
The waybill is slipped into the transparent pocket of the card, the boxcar in question is switched to the Consolidated Tooling Company for unloading

Step 2
Reversing the waybill, the boxcar has now been unloaded and loaded again; it is taken to its new destination, the Atlantic Warehouses

Step 3
According to the directions on the waybill, it is removed once the boxcar has reached its destination, revealing that after unloading it is to return empty to the Westside Yard
Obviously, these physical cards can be - and to an increasing extent are - substituted by virtual cards or screen output on a computer system or handheld device which will also take care of the chance car selection and load distribution.
Scenario lists
Whereas the card and waybill system centers on identifying individual freight stock and linking these with destination orders, the Scenario List System focusses on customers, i.e. locations and industries, where freight may be picked up and/or delivered.

Each industry on a layout is analysed in terms of possible scenarios. For example, one customer on an American prototype layout, the "Consolidated Tooling Co.", may mainly receive and ship products in boxcars, but occasionally also receives goods transported on a flat car. The possible scenarios here are: Customer receives 0-2 boxcars, ships 0-2 boxcars, receives 0-1 flat car. From the total of possible combinations, a selection is made to produce the scenarios given as example on the right.
For every operating session, one of these scenarios is selected (or generated by computer) for the "Consolidated Tooling Co". In order to acknowledge that according to the traffic flow concept worked out for this customer some of these scenarios are supposed to be more frequent than others, the scenario list is broken down to scenario cards (one card giving one scenario) in varying numbers. As a result, scenarios 2 and 3 would appear on 5 scenario cards each, whereas all scenarios involving the delivery of a flat car would only have one. Shuffling these cards, the chances of having a flat car delivered would thus be smaller. Once the "move" is made, the card goes to the back of the deck of scenario cards, making sure that flat cars won't appear too frequently at the "Consolidated Tooling Co."

This system works well for small layouts and is very realistic in its approach: rail customers usually don't care at all whether the boxcar used to ship their goods is brown, green, yellow or pink as long as they turn up on time and in sufficient numbers.
Due to its flexibility regarding choice of rolling stock to be used, this system may not produce challenges in the sense of asking you, by chance, to switch the most awkwardly placed boxcar to the tightest spot on the layout - but there's always the possibility of creating additional rules if things seem to get too easy.
From a shunting layout to a shunting puzzle
All of the systems of operating a shunting layout discussed above have one purpose: to generate traffic flow. Although they may come up with some awkward shunting moves, they are not designed to introduce such complications deliberately. Most of the time, things will flow easily.

A shunting puzzle, however, is a shunting layout which deliberately introduces complications which need to be solved in order to get the shunting done. Usually, these complications are generated by a set of restrictions or rules. For example, sidings can be short and thus require the operator to think ahead of his moves unless he wants everything clogged up, or rules may require a certain specific order into which freight stock must be shunted.

Text, photos and illustrations not labelled otherwise are © Adrian Wymann
Page created: 26/JAN/2001
Last revised: 08/JAN/2015